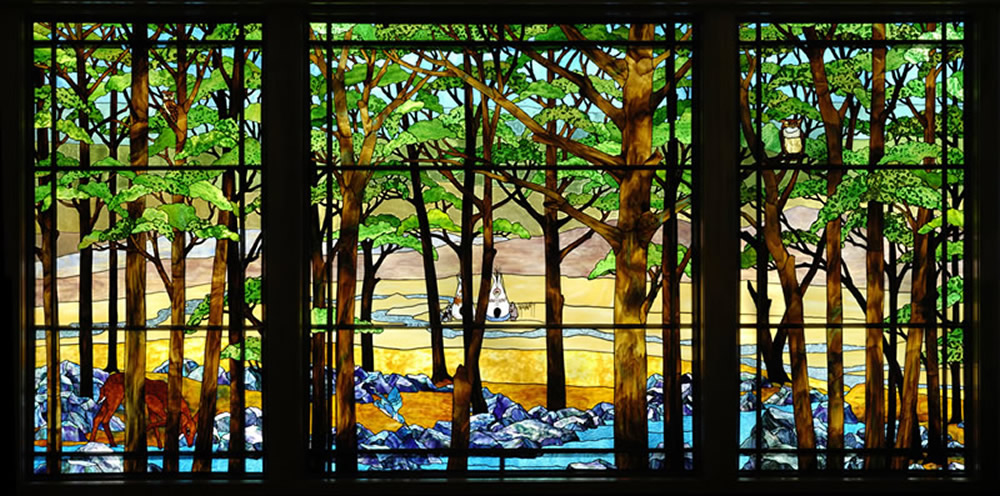 Founded in Westport, CT, 1970 by Peter Green, Renaissance Studio is a full-service stained glass studio serving Fairfield County and the tri-state area.
We provide our clients with over 40 years of expertise in custom design, fabrication and installation services related to artistry in stained and clear leaded glass windows.
Our in-house woodshop can also provide wood framing for both hanging and sill mounted windows, as well as light box millwork for wall mounted back lit installations.
Since the early 70s, Renaissance has become your best source of dependable, top quality repair and restoration for your valuable antique stained glass windows.
We have the most extensive collection of old glass stock in Connecticut with which to replace broken or missing antique stained glass pieces... plus the expertise to achieve a virtually undetectable repair.
Renaissance Studio also provides custom sandblast etched and beveled glass windows. With an extensive library of design "Idea Books" to choose from, you will have no shortage of jumping off points available in the creation of your own custom design. We can also work from your own drawings or pictures.
Also available, are old world enhancements such as kiln fired painted details, as well as fusing and glass forming. These techniques increase our ability to realize in the art glass medium what our clients imagine on paper or digital images.
We are also computer literate; and can economically adapt, rescale, and adjust color palettes of images you provide us for use in your project.
We hope you will take the tour of our site pages to learn more about our capabilities and projects. These works will further describe some of the endless possibilities of the art glass medium.
Please call us at 203-226-9674 , and we'll provide the best information available. Or email me at:
Should you wish to proceed further, we'd be happy to walk you through the design consultation process, schedule a visit to your homesite, or discuss a repair.
Tina & Peter Green
Renaissance Studio LLC
Westport, Connecticut
(203) 226-9674
email
Over 40 years of experience
A full-service studio

stained glass
clear and leaded glass
restoration & repair

Custom designs

Work from your drawings or pictures
Extensive library of design "Idea Books"
Software saavy to adapt, rescale, and adjust

Connecticut's most extensive old glass collection
Old world enhancements

Kiln fired painted details
Fusing and molding